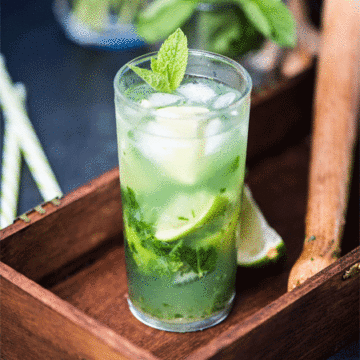 Serving size: 600 ml (5 glasses)
Portion size:120 ml / 1 glass
Ingredients:
Mint/ Basil leaves15-20 in no
Lemon juice 2 tbsp
Lime, sliced 2 in no (Optional)
Sugar substitute 2-3 pellets(as required)
Soda 500 ml (you can also use water)
Crushed ice as required
Procedure:
Crush mint/basil leaves using mortal and pestle.
Muddle crushed mint/basil leaves, lemon rings and sugar substitue in a pitcher using a pestle.
Put handfull of crushed ice in a glass, add 2 teaspoon of lime juice and spoon the muddled ingredients.
Add soda or water in the glasses and stir well.
Serve Mojiti immediately.
Nutritive value as per one serving
Calories – 1 KCal
Proteins – 0.1 gram
Sodium – 3.8 mg
Potassium – 16 mg
Phosphorus – 1.3 mg