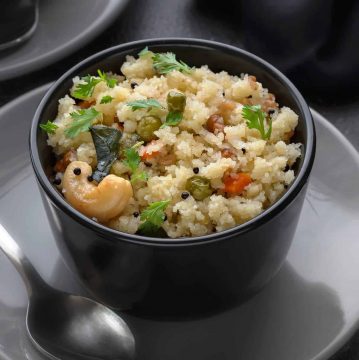 Portions: 5
Serving size: 1/2c
Highlights:
1. Convenient breakfast choice.
2. For Dialysis & Diabetes.
Ingredients:
1c Suji / Rava (Semolina)
1/4c Capsicum chopped
1/4c Fresh green peas
1/2c Onions chopped
2 Green chilies thinly chopped
Fresh coriander chopped 1 Tbsp
1Lemon -medium
1/4tsp salt
For tempering:
2Tbsp Vegetable oil
1tsp Urad dal
1tsp Chana dal
1tsp Mustard seeds
Curry leaves 1spring
Preparation:
1. Boil 3-4 cups of water in a pan.
2. In another heated hard bottom pan add oil. Add ingredients for tempering in the sequence listed in the heated oil.
3. Once mustard seeds splutter, add all chopped vegetables, green chilies, fresh coriander, curry leaves and let it fry for 5 minutes till it becomes lightly tender.
4. Add suji and fry the fixture until it turns light brown on a light flame.
5. Once you feel the aroma of fried suji, add salt and boiled water and cook the mixture till water evaporates.
6. Once water evaporates, add juice from one medium lemon and stir nicely.
7. Cover the lid for 5 minutes and serve hot.
8. You may garnish with 1tsp of leached carrot but not must.
Nutrients per serving:
Calories: 190 Kcal
Protein: 4.5g
Carbohydrates: 29g
Fat: 6g
Sodium: 125mg
Phosphorus: 60mg
Calcium: 26mg
Potassium: 93mg
Disclaimer: Including this recipe without consulting your dietitian may cause disturbances in your laboratory results. Creating variety in your eating pattern is one way to improve your quality of life.