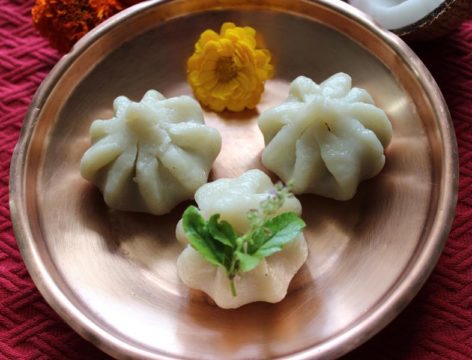 Serving size: 2 in no
Portion size: 15 pcs
Ingredients:
For stuffing-
Coconut fresh grated 1 cup (Approx. 80 g)
Jaggery powdered ¾ cup (Approx. 100 gm)
Sesame seeds, roasted 2 tsp
Cardamom powder ¼ tsp
For outer covering-
Rice flour 1 cup
Water 1.5 cup
Salt 1/8 tsp
Ghee 1 tsp
Procedure:
For Stuffing:
Put a saucepan on a medium flame, add grated coconut and grated jaggery together.
Stir until the jaggery melts and the ingredients mix.
Add roasted sesame seeds and cardamom power, mix well until all the moisture evaporates.
Once the mixture is dry. Keep aside to cool.
For Outer covering:
Take a water in a saucepan. Add pinch of salt and put it on heat.
Once the water comes to boil, add ghee and mix well.
Add rice flour and stir immediately to dissolve the lumps.
Cover the pan with a lid and steam it for 2- 3 mins.
Take the vessel off the heat and allow the mixture to cool.
Once the mix is cool enough to touch, knead it into smooth soft dough. Apply water to the palms and knead the dough to get smooth lump free dough.
Divide the dough in 15 balls.
Take a ball and press it in a centre with the thumb, and shape it into a flat disk or shallow bowl shape.
Place the modak filling in the centre.
 Now using your thumb and first finger, start pinching the little edges and make the pleats.
Bring all the edge together and seal it. Make all the modak in the similar way.
You can also use readymade modak mould.
Meanwhile, keep the steamer ready with water. Bring the water to boil.
Arrange the modak on a banana leaf, brush the modak with water and keep them in the steamer.
Cover the steamer with a lid and steam them for 10-15 mins on medium flame.
The ukadiche modak are ready to be offered to lord Ganesh.
Nutritive value as per serving ( 2 pcs)
Calories – 168 Kcal
Protein – 2 gram
Sodium – 93 mg
Potassium – 121 mg
Phosphorus – 46 mg