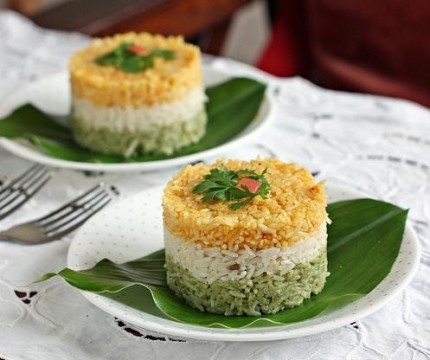 Portions: 6
Serving size: 1/2 cup
Highlights:
For Independence / Republic Day celebrations.
Nutrient dense.
Ingredients:
3 C Cooked rice
1 C Methi leaves (fenugreek)
¼ c Onion chopped
1/2tsp Jeera
2 Green chilies
1/4tsp Amchur powder
1/2tsp Chutney powder
Drop of orange color
1/2tsp Turmeric powder
¼ tsp Urad dal
¼ tsp Rai
1 Lemon
1/2c Paneer-home made
3tsp Oil
Coriander or curry leaves for garnishing
1/4tsp salt
Preparation:
In a shallow pan add 1 tsp oil and fry jeera, onion and 1 green chili chopped, for 30 seconds.
Add methi leaves to the above and remove from fire and keep it aside.
After it cools down grind the above in the grinder adding amchur powder.
Add this mixture to 1 cup rice and keep it aside.
Fry homemade paneer in 1 tsp oil and crumble it.
Add the paneer mixture to 1cup white rice, mix well and keep it aside.
Heat 1 tsp oil in a pan and fry urad dal and rai.  Once rai splutters, add turmeric powder, chutney powder or a drop of orange color.
Add the above mixture to another 1 cup of white rice and squeeze in juice from 1 lemon. Mix well. Rice will be orange-yellow color.
In a straight thali katori add first orange lemony rice, top it with white paneer rice and over it green methi rice in equal portions. Press hard so that it is tightly packed in the katori.
Invert the katori upside down on the plate to be served. Now the orange color will be on the top when you invert it. Sprinkle pinch of salt on your rice sandwich.
Garnish with coriander leaves.
Disclaimer: Including this recipe without consulting your dietitian may cause disturbances in your laboratory results. Creating variety in your eating pattern is one way to improve your quality of life.