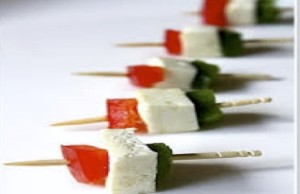 Portions: 8, serving size: 3
Highlights:  
Savory snack for Independence / Republic day
Ingredients:           
200gm Paneer
1/2 Red-Orange Capsicum, big
1/2 Green Capsicum, big
1 Tbsp Rice Vinegar
1 tsp sugar
½ tsp Pepper Powder
1 tsp Dry Oregano
1 Tbsp Rice bran or Vegetable oil
Tooth Picks
Preparation
Dice Paneer and Capsicum into cubes. Paneer should be diced into 24 equal cubes.
Keeping aside diced paneer, capsicum, 1 Tbsp. of oil, and tooth picks, mix all other ingredients and mix well.
Pour diced capsicum into above dressing and mix well and let it stay for 20 min with covered lid.
On a heated tava you can roast the capsicum little without burning or use it raw without cooking.
Using a tooth pick thread the green capsicum first, then the paneer cube and then orange –red peppers.
Arrange all the threaded paneer skewers in a large serving plate.
Feel the freedom of eating different and adventurous this day.
Disclaimer: Including this recipe without consulting your dietitian may cause disturbances in your laboratory results. Creating variety in your eating pattern is one way to improve your quality of life.