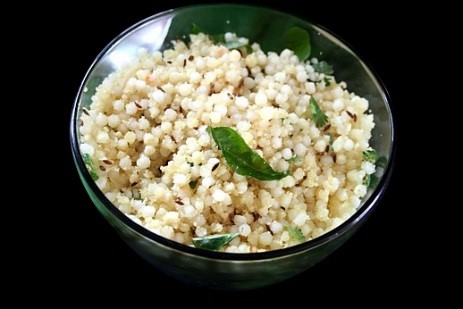 Portion Size: 4 cups
Serving Size: 1 cup
Ingredients:
Sago, soaked 1 cup
Green Chilli 1 tsp
Cumin Seeds 1 tsp
Ghee 2 tsp
Curry leaves 1 sprig
Sugar 1 tsp
Peanuts roasted powdered 2 tbsp.
Salt-As prescribed by the dietician.
Procedure:
Soak sago in water for 4 hours. Drain of the water. Keep aside.
Heat ghee in a pan. Add cumin seeds and let it splutter.
Add curry leaves and green chilli. Sauté for 2-3 mins.
Add soaked sago, sugar and roasted peanut.
Cover with lid and steam for 7-8 mins.
Serve hot with fresh curd.
Nutritive value as per one serving
Calories – 378 Kcal
Proteins – 2.17 gram
Sodium – 2.66 mg
Potassium – 98 mg
Phosphorus – 35.82 mg
*Values of salt are not considered while calculating nutritive value
Note: Peanuts are high in potassium. Limit the usage of peanut in the preparation. On the day, you want to enjoy Sabudana khichadi with peanuts, avoid any other high potassium foods like fruits, Dal and high potassium vegetables in the meal. Planning of meals ahead of time will help to control excess potassium intake.