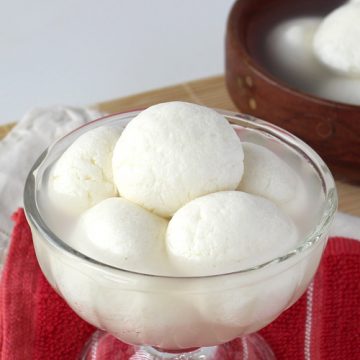 Portion Size: 18-20 in no
Serving Size: 2 in no
Ingredients:
Milk, low fat 4 cups
Vinegar or Lemon Juice 1- 2 tsp
Water 4 cups water
Sugar 2 cups
Saffron Strands few
Maida or cornflour 1 tsp
Procedure:
Bring the milk to boil and add lime juice or vinegar diluted in water.
Once the milk curdle, turn off the stove and leave it for 2 mins.
Add ice cubes to the curdle milk and leave it for 2- 3 mins.
Filter and collect the chenna in a muslin cloth.
Tie the mixture and hang it up to 40 mins to removes excess water and whey.
Add Maida to hung chenna and knead well to make soft dough.
Divide the dough into 18 equal portion, roll the dough in to small balls, and keep aside.
Meanwhile, add sugar and water to a wide pan and bring it to boil.
Once the syrup is ready, add chenna balls to it.
Cover it with lid and cook for 10 mins on medium flame. They double in size when they are done.
Allow Rasgulla to rest and cool completely.
Garnish with saffron strands and refrigerate Rasgulla until served.
Nutritive value as per one Rasgulla ball:
Calories – 105Kcal
Proteins – 1.9gm
Sodium – 41mg
Potassium – 78mg
Phosphorus – 70mg
Note:
Kneading to a soft dough is very important to get good Rasgulla.
Overcooking or cooking them at very high temperature could result in rubbery balls or break the balls.