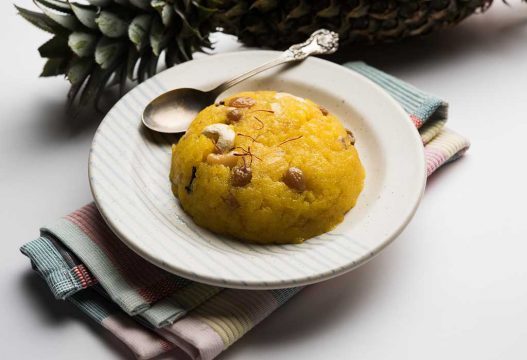 Portions: 5
Serving size: 1/2c
Highlights:
1. Classic Indian sweet made for many occasions throughout India.
2. Low potassium- fruity delight
Ingredients:
1 ¾ c Fresh cubed pineapple chunks
1c Rawa/Suji (semolina)
2Tbsp Vegetable oil
2tsp Ghee
Pinch of Kesar (saffron)
2Tbsp Milk
1Tbsp Sugar
4Tbsp Sugar substitute
1/2tsp Elaichi powder (cardamom)
Preparation:
1. Soak kesar in milk and keep it aside.
2. Puree 1 cup pineapple chunks. Mix puree and sugar well in a pan and cook for 4-5 minutes stirring occasionally. Keep it aside.
3. In another pan, heat oil and ghee. To it, add rawa and fry continuously till it turns golden brown.
4. Boil 3-4 cups of water while rawa is frying.
5. While rawa is turning golden brown, add elaichi powder, kesar milk and pineapple chunks and cook for 2-3 minutes. Keep few chunks of pineapple aside for garnishing.
6. Add boiled water to the golden brown rawa and keep stirring till rawa cooks and moisture evaporates.
7. Add sugar substitute to the cooked rawa. Stir till sugar substitute melts completely.
8. Now add cooked pineapple puree to the above cooked rawa and cook for 3-4 min till moisture evaporates.
9. Turn off the heat and cover the pan with a lid for few minutes.
10. Garnish with fresh pineapple chunks while serving.
Nutrients per serving:
Calories: 227Kcal
Protein: 4 g
Carbohydrates: 35g
Fat: 8g
Sodium: 38mg
Phosphorus: 45.5mg
Calcium: 35.5mg
Potassium: 59mg
Disclaimer: Including this recipe without consulting your dietitian may cause disturbances in your laboratory results. Creating variety in your eating pattern is one way to improve your quality of life.