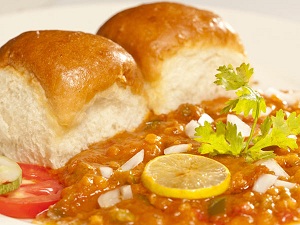 Serving: 5 cup
Portion size: ½ cups
Ingredients:
Potatoes, Leached, medium 3 in no
Tomato, Leached large 2 in no
Onion, large 1 in no
Cauliflower, leached 1 cup
Green Peas, Fresh 1 cup
Capsicum, medium 1 in no
Ginger garlic paste 2 tsp
Pav bhaji Masala 2 tbsp.
Haldi 1 tsp
Red chili powder 1 tsp
Butter, unsalted 2 tbsp.
Water 1-2 cups
Salt as prescribed by Dietician
Procedure:
Pressure cook potatoes, peas and cauliflower in plenty of water until fully cook. Drain off the water (Leach) and mash up well when pressure comes down. Keep aside.
Heat butter in pan, add chopped onions, green chillies and ginger garlic paste, fry until onions turn translucent.
Add capsicum and fry for another 4-5 mins.
Add chopped tomatoes and fry until soft and mushy.
Add salt, haldi, red chilli powder and pav bhaji powder. Mix and fry masala for 2 mins or till raw smell of the mixture goes away.
Add boiled and mashed vegetables.
Add 2-3 cups of water or enough quantity water to get desired consistency.
Cook for 4-5 min until bhaji thickens.
Serve hot with toasted Pav and chopped onion.
Nutritive value as per one serving
Calories – 62 KCal
Proteins – 1.05 gram
Sodium – 43.3 mg
Potassium – 156.75 mg
Potassium ( Post Leaching) – Between 80 – 100 mg
Phosphorus – 35.1 mg
*Nutrient content of salt is not considered while calculating recipe.
*The values mentioned for potassium are without leaching. If proper technique is followed, potassium can be reduced up to 50%.
Note:
One Pav/ Two Bread slice will contribute approximately 275 mg of sodium. The daily allowance for sodium per day is 2500 mg.
1 tsp butter will provide approximately 40 Kcals and 0 sodium.
¼ th lemon will provide 20 mg of potassium.
1 tbsp. of chopped onion will provide 15 mg of potassium.