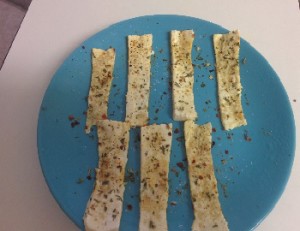 Portions: 2
Serving size: 6 Papads
Highlights:
1. High protein
2. No added salt
Ingredients:
100gm Tofu, extra firm, (Nigari)
1 tsp Olive Oil
Sprinkle of Oregano and Parsley
Sprinkle of Chili flakes
1/4tsp of ginger paste (optional)
Preparation:
  Thinly slice Tofu into strips
To 1 tsp of olive oil, add 1/4tsp ground ginger paste and set it aside for 10 minutes.
Brush the strips with the above olive oil on both sides.
Place strips flat on a microwave safe plate.
Sprinkle all the salt less herbs like oregano, parsley and chili flakes.
Microwave for 3 minutes.
Yummy protein rich snack is ready.
Tip:
Tofu may be manufactured using magnesium chloride (Nigari), calcium sulphate or both in varying quantities. Nutrition content will vary with the type of Tofu.
Nutrients per serving:
Calories: 65 Kcal
Protein: 5 g
Carbohydrates: 1 g
Fat: 5 g
Sodium: 4 mg
Phosphorus: 68 mg
Calcium: 88 mg
Potassium: 66 mg
Dietary Fiber: 0.2 g
Disclaimer: Including this recipe without consulting your dietitian may cause disturbances in your laboratory results. Creating variety in your eating pattern is one way to improve your quality of life.