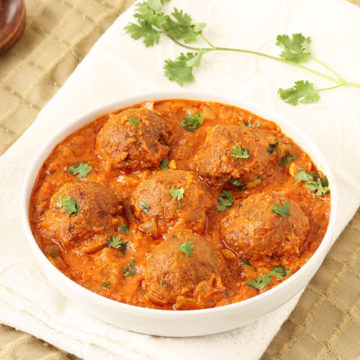 Ingredients: (1 cup 150 g): Serves 3
For Kofta:
Lauki grated 2 cups
Bengal gram flour 1 tbsp.
Green chilies, finely chopped 1 tsp.
Ginger garlic paste 1 tsp.
Garam masala ½ tsp.
For Curry:
Tomatoes Blanched, medium 2
Onion grated 1 cup
Oil 1tsp.
Ginger chopped ½ tsp.
Green chili 1 in no
Jeera ½tsp.
Dhaniya Powder ½ tsp.
Garlic chopped 1 tsp.
Haldi ½ tsp.
Red Chili Powder ½ tsp.
Corn flour powder 1 tsp.
Low fat milk 2 tbsp.
Preparation:
For Kofta:
Squeeze the water out of grated lauki and mix all the ingredients for making kofta.
Mix well and divide the mix into 8 equal round balls.
Bake the balls in an oven or you can use appam patram to roast the kofta.
Roast the kofta till they are crispy and golden brown in colour.
Keep aside.
For Curry:
Blend onion, tomatoes, ginger, garlic and green chili in smooth paste.
Heat oil in a non-stick frying pan. Add jeera and let it crackle.
Add the blended paste and cook till oil start to leave from the sides.
Do stir in between and make sure that it is not sticking to the bottom of the pan.
Add turmeric powder, red chili powder, dhaniya powder and dash of salt.
Mix it well and cook it for a minute.
Add water to make it to the desired gravy consistency.
Add paste of corn flour and milk to the gravy to give it a creamy texture.
Immediately stir it well till everything is mixed. Now crank the heat to medium again and bring it to a boil.
Add garam masala and kasoori methi. Mix it well.
Add koftas and serve hot
Nutritive value per serving
Calories : 126 Kcal
Proteins : 2.7 gm
Sodium : 68.4 gm
Potassium : 168 mg
Phosphorus : 71 mg
Note: Add the koftas right before the serving, otherwise kofta will absorb almost all the gravy and becomes soft and soggy.