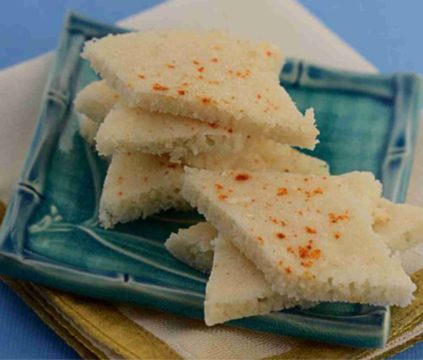 Portion size- 1 to 1.5 "10-12 pcs
Serving size- 3- 4 pcs in no
Ingredients:
Rice ¾ cup or 175 g
Urad dal ¾ cup
Green chilli 2-3 in no
Ginger ½ inch
Sour yogurt ½ cup
Oil 1 tsp
Salt 1/8 tsp
Baking soda ¼ tsp
Procedure:
Wash rice and Urad dal under running water and soak in water for 5 hours.
After enough soaking, blend soaked mixture with ginger and green chillies.
The batter should be course like Idli batter.
Add sour yogurt and salt to the batter.
Mix the batter and leave the batter in a warm place to ferment for 8 hours.
Before preparing the dhoklas, grease the pan in which you will be making dhokla.
Prepare the steamer with water and wait until water comes to boil.
Add oil in the batter and stir well.
Finally add baking soda and stir well, to uniformly distribute it in the batter.
Empty the content in the greased pan. Sprinkle red chilli powder and black pepper.
Cover and steam the batter for 20-25 mins or more until cooked.
Serve hot with chutney of your choice.
Nutritive value as per one serving
Calories – 194 KCal
Proteins – 5 gram
Sodium – 206 mg
Potassium – 105 mg
Phosphorus – 145 mg