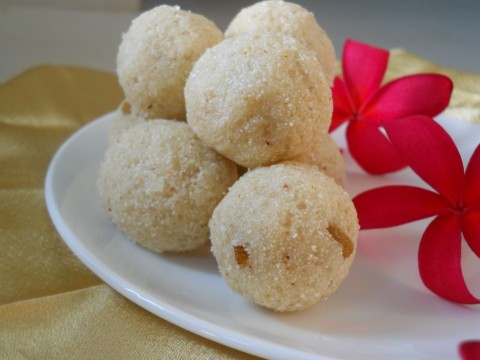 Portions: 12
Serving size: 1
Highlights:
1. Healthy Grain Sweet
2. Low Fat
Ingredients:
1 C Semolina ( Suji Rava)
1 Tbsp Ghee
1/3C Sugar/ Sugar substitute
1/3C Water
1/2tsp Cardamom powder
Few Saffron Strands ( Kesar)
1Tbsp Almonds sliced
12 Raisins
Preparation:
In a pan fry Suji Rava with 1 Tbsp of Ghee for 5 minutes and keep it aside for cooling.
In another pan add water and sugar and few strands of Kesar and bring to boil. The moment water boils, stop the stove and add the fried Suji mixture and mix it thoroughly.
Add sliced Almonds
Cover the lid and let the mixture sit to cool for 1 hour.
Once the mixture cools add cardamom powder and using hands make ladoos.
Pin in 1 raisin while finishing the ladoos.
A very simple kesary rava laddo is ready.
Tip:   Turn off heat the moment you see bubbles for first boil while making the sugar mixture. The sugar mixture boiled longer can make the laddo hard.
Nutrients per serving:
Calories: 100 Kcal
Protein: 2 g
Carbohydrates: 19 g
Fat: 2 g
Sodium: 4 mg
Phosphorus: 21 mg
Calcium: 2mg
Potassium: 23 mg
Dietary Fiber: 0 g
Disclaimer: Including this recipe without consulting your dietitian may cause disturbances in your laboratory results. Creating variety in your eating pattern is one way to improve your quality of life.