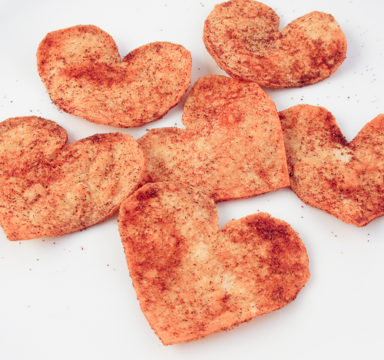 Portion Size: 48 Hearts
Serving Size: 6-8 Hearts
Ingredients:
Whole Wheat flour 2 cup
Salt ¼ tsp
Water ¾ cup
Olive Oil 3 tbsp.
Chilli powder ½- ¾ tsp
Procedure:
In a bowl, combine flour, salt, water and oil.
Place on a lightly floured surface and knead a few minutes until smooth and elastic.
Cover it with damp cloth and let rest for 10 minutes.
Divide dough into eight equal portion.
On lightly floured surface, roll each ball into 7-inch disk.
Microwave them for 20 to 60 seconds; this will make the tortillas dry.
Spray both the sides of tortillas with cooking oil and pile them above one another.
Using a cookie cutter or stencil cut 1.5-inch hearts through the stack. One tortilla disk will yield approximately 5-6 hearts.
In a bowl, lightly mix with chilli powder.
Lay the hearts on a baking tray and bake them for 5-8 mins or until they turn golden brown or slightly curled up.
Nutritive value as per one serving
Calories – 154 Kcal
Proteins – 4 gram
Sodium – 160 mg
Potassium – 92 mg
Phosphorus – 75 mg