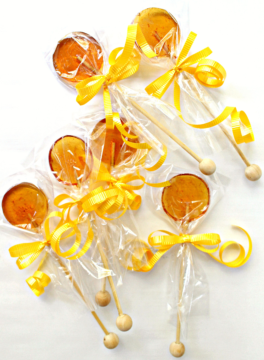 Happiness on the sticks. Other than happiness it also works as an excellent natural cough suppressant.
Portions: 20 in no  Serving Size:  1
INGREDIENTS:
Sugar 1 cup
Honey 1/3 cup
Water 2 tbsp.
Lemon juice / Lemon essential oil 2 tbsp.
Cinnamon ¼ tsp.
Ginger Grated 1 tsp.
PREPARATION:
Place the sugar, honey, and water into a large pan.
On medium heat, stir the ingredients together with a wooden spoon until the sugar has completely dissolved.
Once the sugar is dissolved, place the candy thermometer in your pan and allow the mixture to come to a boil. Let it boil until it reaches 295 degrees Fahrenheit (or the hard crack stage).
While the candy is boiling, lay the lollipop sticks on a parchment paper-covered baking sheet.
Immediately after the candy reaches the hard crack stage, add other ingredients and stir.
Slowly pour the hot mixture over one end of the lollipop sticks.
Twist the lollipop sticks to make sure they are fully coated on the back of the mixture.
Once completely cooled, wrap in clear, plastic treat bags and secure with a twist-tie or simply store in an air-tight container, separating the lollipops with a piece of wax or parchment paper.
NUTRITIVE VALUE AS PER ONE SERVING
| | | | | |
| --- | --- | --- | --- | --- |
| Calories Kcal | Proteins gram | Sodium mg | Potassium mg | Phosphorus mg |
| 70 | 0 | 0 | 9 | 2.3 |
Note:
If you do not have a thermometer, you may test the honey for doneness by dropping a drop or two into a bowl of very cold water. If the honey hardens into a ball, it is ready. If it remains soft to the touch, return to a boil.
If lollipop sticks are unavailable, you can use toothpicks instead.
You can also use the lollipop as a sweet stirrer in the tea.