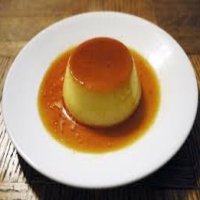 Portion Size: 5 cups
Serving Size: 1 cup
Ingredients:
Bread Slice, large 4 in no
Milk 300 ml.
Sugar 4 tbsp.
Custard Powder 1 tbsp.
Vanilla essence ½ tsp.
For Caramel:
Sugar 3 tbsp.
Water 1 tbsp.
Procedure:
In a non-stick pan add milk, sugar and custard powder.
Stir the mixture till sugar dissolves. Turn off the flames.
Now soak crumbled bread pieces in milk. Mash bread using spoon to make it into smooth paste.
Add vanilla essence and mix well. Keep the mixture aside.
In a heavy saucepan over low heat, cook and stir 3 tbsp. sugar and water until melted and golden.
Pour into 5 pudding cups, tilting to coat bottom of cup; let stand for 10 minutes.
Pour the mixture over caramelized sugar. Cover the cup with silver foil.
Boil water in a pressure cooker and place the pudding cups in it carefully.
Cover the cooker with the lid. Remove the whistle.
Stem the pudding for 20-25 mins.
To unmould, run a knife around rim of cup and invert onto dessert place. Serve warm or chilled.
Nutritive value as per one serving:
Calories : 209 Kcal
Proteins: 5 gram
Sodium: 191 mg
Potassium: 135 mg
Phosphorus: 97 mg