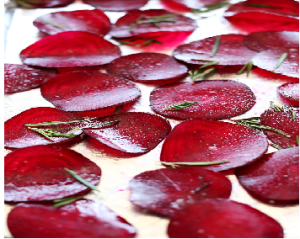 Portions: 2
Serving size: 3/4C
Highlights:
1. Crunchy snack
2. Low Sodium
Ingredients:
1 medium Beetroot,
1 Tbsp Olive Oil
1/2tsp Coriander powder
1/2tsp Jeera powder
1/2tsp Chili powder
1/2tsp Rosemary, dry (optional)
Preparation:
Thinly slice beetroot into rounds or strips.
Place thinly sliced beet rounds in an airtight container.
Add oil, herbs in the container and shake it little to mix it thoroughly. For increasing the flavor, leave it overnight. Blend more oil if you think oil is less.
Lay the beet rounds on the microwave safe plate without touching each other.
Microwave for 3 minutes and flip it to the other side to microwave again for less than a minute.
You can make another batch of chips using the same method as above and store in a box.
Enjoy your crunchy flavorful snack.
Tip:
Thin slices will cook fast. Change the time in microwave accordingly.
Nutrients per serving:
Calories: 94 Kcal
Protein: 1.5 g
Carbohydrates: 7 g
Fat: 7 g
Sodium: 47 mg
Phosphorus: 46 mg
Calcium: 23 mg
Potassium: 42 mg
Dietary Fiber: 2.6 g
Disclaimer: Including this recipe without consulting your dietitian may cause disturbances in your laboratory results. Creating variety in your eating pattern is one way to improve your quality of life.