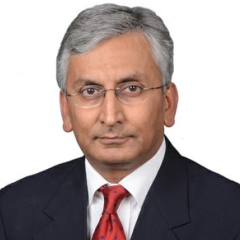 Professor Vivekanand Jha [MBBS, MD, DM, PhD, FRCP, FRCP (Edin) FAMS], is the Executive Director, George Institute for Global Health India, and a Professor of Nephrology at University of Oxford. He is the President of the International Society of Nephrology. He has been a Professor of Nephrology and Head of the Department of Translational Regenerative Medicine at the Postgraduate Institute of Medical Education and Research in Chandigarh. Prof. Jha graduated from Patna Medical College, did his postgraduate training in Medicine and Nephrology from the Postgraduate Institute of Medical Education and Research (PGI), Chandigarh, India and a basic science research Fellowship at the Harvard University and Beth Israel Deaconess Medical Center, Boston.
He is setting up a India-wide cohort of patients with kidney diseases to characterize the clinical and laboratory features that would identify those at high risk so that prevention steps can be targeted and new intervention strategies tested in high risk persons. He is setting up a country-wide network of nephrologists to design and implement clinical studies for finding solutions to the ever increasing burden of kidney disease in India.
He is former Secretary of the Indian Society of Nephrology and a member of various other Societies, Task Forces and Committes at the national and international level. He has over 220 publications in peer-reviewed journals and 30 chapters in major textbooks. Dr Jha has been elected a Fellow of the Royal college of Physicians (London), Royal college of Physicians (Edinburgh) and the National Academy of Medical Sciences (India).