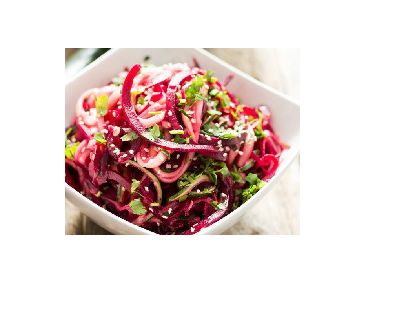 Portions: 5 bowls
Serving size: 1 bowl
Ingredients:   (1 cup = 150 g)
0live oil 2 tbsp.
Garlic, cloves 3 in no
Sesame seeds, white 2tsp
Zucchini, green 2 cups
Beetroot ¾ cup
Soy sauce, low sodium ½ tsp.
Salt ¼ tsp.
Black pepper, ground ¼ tsp.
Lemon juice 2 tbsp.
Sesame oil 1tsp
Preparation:
Wash the Beetroot and Zucchini under running water.
Peel the beetroot. Make the beetroot and zucchini spiral noodles with the help of vegetable spiralizer or a mandolin and later chop them finely as required.
Keep them in separate bowls.
Grind the garlic. Keep it aside.
Heat olive oil in a pan; add garlic paste and sesame seeds. Roast for a minute. Cool it at room temperature.
Add garlic oil into the Zucchini noodles and toss until the oil is evenly coated on the noodles.
Refrigerate the noodles, until ready to serve plate.
Before serving whisk together with beet noodles, salt, lemon juice, sesame oil.
Gently toss together with zucchini noodles.
Serve immediately.
Nutritive value as per one serving
Calories: 86.4 Kcal
Proteins: 1.3 gram
Sodium: 145 mg
Potassium: 185 mg
Phosphorus: 30.4 mg
Disclaimer: Including this recipe without consulting your dietitian may cause disturbances in your laboratory results. Creating variety in your eating pattern is one way to improve your quality of life.