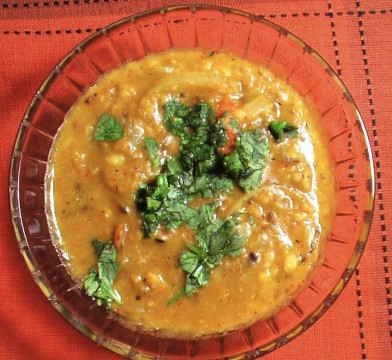 Portions: 4
Serving size: 1/2 cup
Ingredients:
1 cup toovar dal (red gram), boiled without salt
1/2 cup  peeled and cubed cucumbers
1/4 tsp rai (mustard seeds)
1 tsp cumin seeds (jeera)
2 tsp chillies finely chopped
¼ tsp red chilli powder
1 tsp turmeric powder (haldi)
¼ tsp salt
Juice from ½ lemon
2 Tbsp chopped coriander leaves (kothmir, dhania)
1 Tbsp oil
Pinch of hing (asafoetida)
Water 3/4 cup
Preparation:
1. Soak toovar dal for at least 4 hours. Change water every 2 hours if possible. Before cooking wash it till water becomes clear.
2. After boiling dal, mix it well till there are no lumps. If required water can be added for desired consistency. Consistency should not be watery.
3. In a deep bottomed pan, heat oil, add pinch of hing, cumin and mustard seeds. Saute till seeds splutter.
4. Add chopped cucumbers, 1 Tbsp of coriander leaves, green chilies and spices. Cook till it becomes very tender.
5. Pour the boiled dal in the above pan. Cover the lid and cook for 5-7 min.
6. Add recommended salt, lemon juice and cook for 1 minute.
7. Garnish with 1 Tbsp chopped coriander leaves and serve with rice or roti.
Nutrients per serving:
Calories: 89Kcal
Protein: 4g
Carbohydrates: 10g
Fat: 4g
Sodium: 151mg
Phosphorus: 58mg
Calcium: 31 mg
Potassium: 200mg