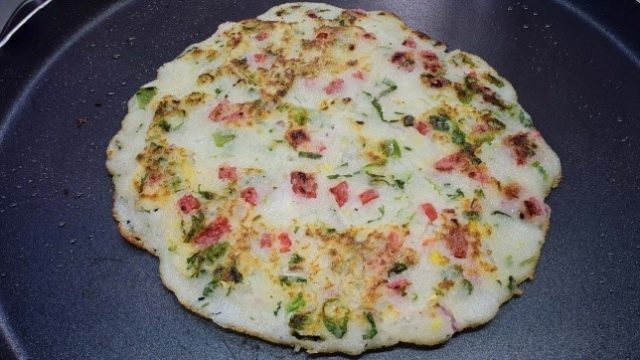 By: Ms. Pooja Yadav, PGD in Dietetics, Dietitian at NephroPlus                                    
Veg Semolina Cheela is a simple, healthy and easy to make recipe. It is also high in protein which makes it an ideal breakfast option for our dialysis guests.
Portions: 2
Serving size: 1
 Ingredients:-
Semolina-1/2 cup(83gm)
Curd-1/2 cup(64gm)
Chopped Onion-18gm(1 small)
Chopped Tomato-20gm (1 small)
Chopped Green Chilli-1 (4gm)
Paneer-15gm
Boiled Peas-10gm
Refined Oil-1tsp.
Salt-A dash (0.4gm) as suggested by the dietitian.
Preparation:-
In a bowl make a batter of semolina, curd and water. The consistency of the batter should not be runny, nor should be too thick let the batter rest for at last 20-25 minutes.
In the mixture add all the other ingredients mentioned above.
Take a non-stick pan & put it on low medium flame brush it with little oil.Once the pan is hot pour a big ladle of mixture and spread it on the pan like a dosa.
Put the lid and let the cheela cook under steam on low flame for 5-7 minutes then, flip the cheela so that both sides get cooked. Cook till they are yellowish golden in colour.
Serve hot with chutney
Nutritional value per Serving
| | | | | |
| --- | --- | --- | --- | --- |
| Calorie | Protein | Sodium | Potassium | Phosphorus |
| 296.9Kcal | 7.72gm | 4.605mg | 253.11mg | 89.78Mg |