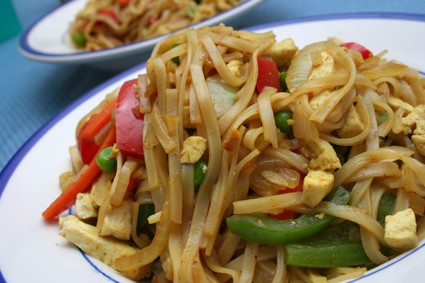 Portion: 4 bowls
Serving Size: 1 bowl
Ingredients:
Rice Noodles, cooked 1 cup (Approx. 180 g)
Bell peppers, sliced 1 medium
French beans, diagonally sliced ¼ cup
Cabbage, chopped ½ cup
Black pepper 1/2 tsp
Sugar ½ tsp
Paneer, cube 25 g Optional
Soya sauce ½ tsp
Vinegar 1 tsp
Tomato Ketchup ½ tsp
Green chilli, silt 2 in no
Garlic chopped ½ tsp
Ginger chopped ½ tsp
Spring onion leaves, chopped for garnishing
Oil ½ + 1 tsp
Procedure:
Bring water to a boil in a medium size vessel. Add noodles and cook them on medium heat for about 2 to 4 minutes, or until barely tender.
Drain and stir in 1/2 tablespoon of vegetable oil. Keep aside.
In a wok take 1 tsp of oil; add ginger, garlic and chillies.
Add chopped vegetables and paneer .Sauté on high flame for3-4 mins.
Add boiled noodles, grounded pepper, sugar and sauces.
Toss it well and garnish with spring onion.
Serve hot.
Nutritive value as per one serving
Calories – 194 Kcal
Proteins – 4.3 gram
Sodium – 111 mg
Potassium – 134 mg
Phosphorus – 48 mg
*Values of salt are not considered while calculating nutritive value
Note: Rice noodles are low in sodium as compared to regular refine flour/maida noodles.
Quick Grocery Tip:
Rice noodles are available in two varieties Instant Rice noodles (Thin) and Rice stick Pad Thai noodles (Thick-Flat) – 330 g packet(₹ 175/-)