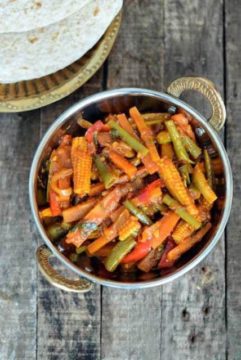 Portion: 6 cups
Serving: 1 cup
Ingredients:
Mixed Leached vegetable 250 g (Carrots, French Beans, Baby corn, Cauliflower, Bell peppers etc.)
Tomato, blanched puree- 2 in no
Onion, sliced 1 medium
Oil 2 tsp
Sugar 1 tsp
Cumin seed ½ tsp
Hing 1/8 tsp
Green chilli slit 2 in no
Haldi 1/2 tsp
Red chilli powder ¼ tsp
Garam Masala ¼ tsp
Ginger garlic paste ¼ tsp
Water 1- ½ cups
Coriander powder 1 tsp
Kasuri methi 1 tsp
Salt- as prescribed by the dietician.
Procedure:
Heat oil in a non-stick pan. Add cumin seed and let it splutter.
Add Hing, slit chilli and sliced onions. Fry until golden brown.
Add ginger garlic paste, haldi, red chilli powder and coriander powder and sauté until 2-3 mins.
Now add tomato paste and mix well. Let it cook for a while.
Add chopped boiled vegetables and water. Mix well and cover the pan with a lid.
Cook for 5-7 mins or until vegetables are well cooked.
When the vegetables are cooked and the dish has the desired consistency, add salt, sugar, kasuri methi, and garam masala. Mix well and turn off the heat.
Serve hot with Jeera rice or Phulkas.
Nutritive value as per one serving
Calories – 156 Kcal
Proteins – 3.5 gram
Sodium – 10 mg
Potassium – 256 mg
Phosphorus – 38 mg
Note: Any seasonal vegetables (Low potassium) can be used to make this tangy vegetable. You can add sliced paneer to the above recipe to make paneer jalfrezi.