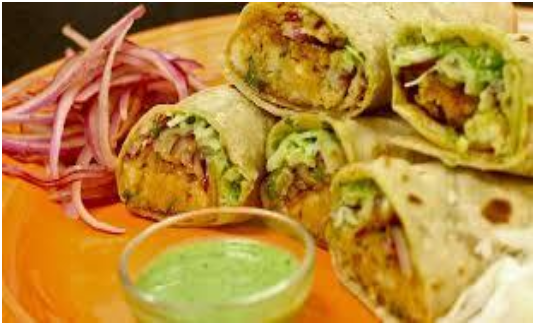 Portions: 3 Rolls
Serving Size: 1 roll
INGREDIENTS: (1 cup = 150 g)
For making the wrap:
Wheat flour 3/4th cup
Oil – 1 tsp
Warm water – as required for kneading
For the filling:
Pattie 3 in no https://www.nephroplus.com/recipes/crunchy-pattie/
Onion, sliced ½ cup
Cabbage, finely chopped ½ cup
Capsicum, sliced ½ cup
Mayonnaise, 2 tbsp (optional)
PREPARATION:
For the wraps
Add wheat flour to the mixing bowl with salt and oil. Knead well, cover with a muslin cloth and set it aside for 20 mins.
Divide dough into 3 equal parts.
Using a rolling pin, roll each ball into 6 " round disk.
Gently transfer the rolled wrap on a tawa and roast both the sides of the wraps till you see golden spots.
Brush it with little oil and stack them on a plate.
Making Frankie
In a plate, place one wrap, place one pattie in the center of wrap.
Top the pattie with vegetables and 1 tsp mayonnaise.
Bring together both side of the wrap and secure it using a toothpick, prepeare other rolls in the similar manner
Veg Frankie is ready to be served.
NUTRITIVE VALUE AS PER ONE SERVING
Calories: 101 Kcal
Proteins: 82.6 gram
Sodium: 159 mg
Potassium: 346 mg
Phosphorus: 155 mg
Note: Potassium above 300 mg per serving is considered to be high potassium foods. Skip any serving of lentils and fruit in the entire day meal plan when you want to enjoy crispy aloo pattie frankie.