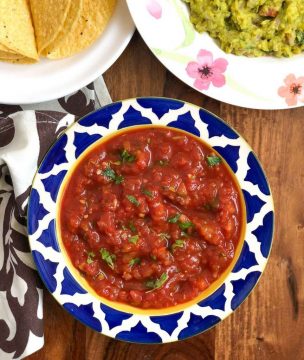 Portion: 1 cup (Serves 4)
Serving Size: 1 tbsp.
Ingredients
Tomatoes, Blanched deseeded and chopped 1 cup
Spring onion, chopped
Capsicum, finely chopped 1 tbsp.
Corriander , finely chopped 2 tbsp.
Green chilli, finely chopped 1 in no
Jeera powder ½ tsp.
Fresh oregano ¼ tsp.
Salt to taste
Procedure
Combine all the ingredients together and refrigerate for at least 3 to 4 hours.
Mash the salsa slightly to make it like a sauce.
Serve with the Baked Tortilla Chips.
Nutritive value as per one serving
Calories : 16 Kcal
Proteins : 0.7 gm
Sodium : 7 mg
Potassium : 50 mg
Phosphorus : 16 mg