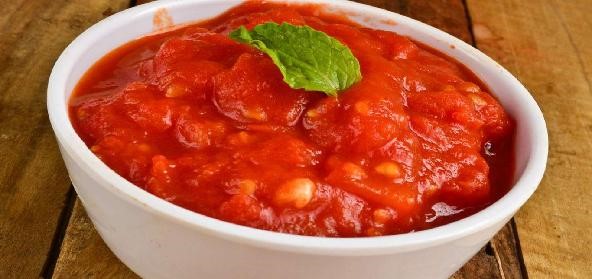 Ingredients: 1 cup =150 g
Tomato, chopped 2 medium.
Ginger grated ½ tsp.
Red chilies 2-3 in no.
Chana dal 1 tsp.
Hing ¼ tsp.
Roasted Jeera powder 1 tsp.
Curry leaves 2-3
Mustard seeds ½ -1 tsp.
Jaggery / Sugar (Optional) for taste.
Oil 1 tsp.
Preparation : 
Dry roast red chilies, channa dal and Jeera. Keep aside.
Take non-stick pan dry roast chopped tomatoes and ginger. Allow it to cool.
Blend all the above ingredients coarsely.
Heat oil in a pan, add mustard seeds and allow them to splutter, add curry leaves and hing.
Add the blended mixture and mix well.
Tomato Chutney can serves as accompaniment with roti, parathas and appam.
Nutritive Value as per 1 cup (150 g).
Calories : 107.6 Kcal
Proteins : 3.89 gm
Sodium : 30.5 mg
Potassium : 235 mg
Phosphorus : 90.1 mg
*Serving size 1 tbsp. (15 g) = 23 mg potassium