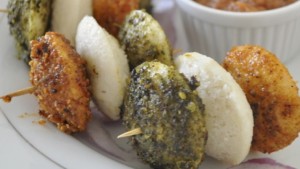 Portions: 7, serving size: 3
Highlights:  
Savory snack for Independence / Republic day
For Diabetics and Dialysis
Ingredients:           
Mini Idlis from four moulded plates
2 tsp Ghee
2 tsp Vegetable oil
2 Tbsp Coriander-cucumber chutney
2Tbsp Karam Podi (Idli chutney powder)
Tooth Picks
Preparation
Use the recipe as in Steamed Idli to make the idli batter.
Steam the batter by pouring it into four mini Idli moulds.
Melt ghee and mix with oil and pour onto all steamed mini idlis
Divide the mini steamed idlis into 3 equal portions. 21 in each bowl, 3 bowls.
Mix one bowl of mini idlis into 2 Tbsp of coriander chutney.
Mix the second bowl in Karam Podi.
Using a tooth pick thread mini idlis first green then plain white and then with karam podi smeared ones.
Arrange all threaded skewers in one large serving plate to enjoy your day.
Disclaimer: Including this recipe without consulting your dietitian may cause disturbances in your laboratory results. Creating variety in your eating pattern is one way to improve your quality of life.