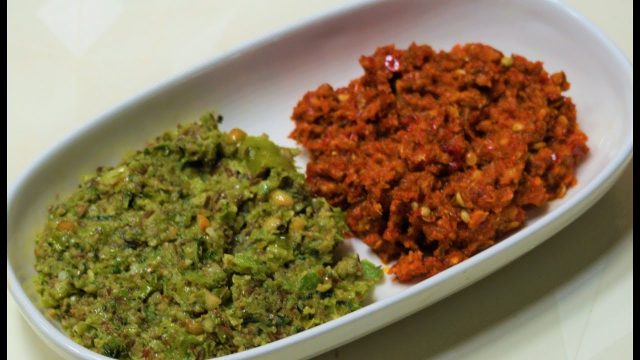 Ingredients: 1 cup =150 g
Green Chilies 7-8 in no
Garlic cloves 6-7 cloves
Lemon Juice ¼ -½ tsp. (As per taste)
Onion 1 tbsp.
Oil 1 tsp.
Preparation :
Heat 1 tsp. of oil in a pan. Add chilies, garlic cloves and onion.
Stir continuously till the chilies splutter and garlic and onion turn soft and have brown spots.
Add lemon juice and grind the mixture coarsely.
Thecha is ready to serve.
Note: As thecha is spicy you can add little curd and enjoy it with Thepla, Methi Paratha and Rotis.
Nutritive Value as per 1/2 cup (50 g)
Calories : 99.4 Kcal
Proteins : 0.72 gm
Sodium : 14.4 mg
Potassium : 234.6 mg
Phosphorus : 104 mg
*Serving size 1 tsp. (5g ) = 39 mg potassium.