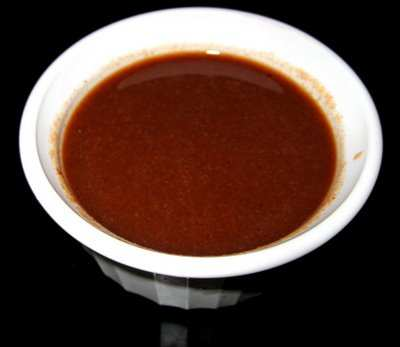 Ingredients: 1 cup =150 g
Seedless tamarind 1 cup
Jaggery, Grated ½ – 1 cup, as per taste
Freshly roasted Jeera powder ¼ tsp.
Coriander powder ¼ tsp.
Red Chili powder ¼ tsp.
Water 1 cup
Preparation: 
Soak Tamarind in water for 15-20 min, or till pulpy soft.
Transfer the pulp in a pan and heat on medium flame for 5-7 mins
Add grated jaggery and mix well
Add all the spice powder, stir and let it simmer for a while.
Boil the mixture till you get thick consistency.
Turn off the flame, and let the pulp cool down.
Grind the mixture in a thin paste, add water if required for smooth consistency.
Strain the mixture using a strainer and store the chutney in air tight glass jar.
Tamarind chutney can be refrigerated and stored for 8-10 days.
Nutritive Value as per 1 cup (150 ml)
Calories : 360 Kcal
Protein : 2.06 gm
Sodium : 30.6 mg
Potassium : 603 mg
Phosphorus : 86 mg
*Serving size 1 tbsp. (15 ml) = 60.3 mg potassium.