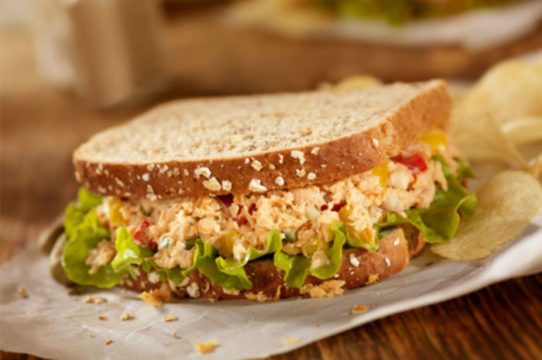 Portion: 2
Serving Size: 1 in no
Ingredients (1 cup 150 g)
Hung curd 1 cup
Garlic, finely chopped 1 tsp.
Green chilies, optional ½ tsp.
Black pepper 1/4th tsp.
Cabbage, chopped 2 tbsp.
Lettuce leaves, medium 2
Bread, multigrain 4 slices
Procedure
Add all the ingredients leaves for filling with yogurt except lettuce and mix it well.
Spread the mix generously over two slices of bread, place lettuce leave and cover them with other slice.
Grill the sandwich from both sides until they are golden brown .Sandwiches are ready to serve.
Yogurt sandwiches taste great even at room temperature.
Nutritive value as per one serving
Calories : 296 Kcal
Proteins : 16 gm
Sodium : 294 mg
Potassium : 171 mg
Phosphorus : 150 mg