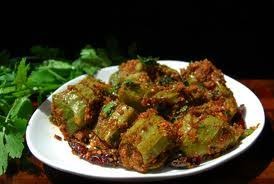 PORTIONS: 12
SERVING SIZE: 2 pieces
INGREDIENTS:
Finely chopped Onion 1 cup (85 gm)
Roughly chopped Onion ½ cup (42.5 gm)
Garlic cloves 7 in no.
Ginger chopped 2 ½ tsp (5 gm)
Cumin seeds 1tbsp (6 gm)
Coriander seeds 1tsp (1.8 gm)
Turmeric ½ tsp (1.5 gm)
Red chili powder ½ tsp (1.35 gm)
Garam masala 1/3 tsp (1.5 gm)
Dry Mango powder ½ tsp
Oil 5 tbsp
Snake gourd 35 inches long (cut into 3" pieces)
Salt ½ tsp
PREPARATION:
Cut the snake gourd into 3'' long pieces, and remove the seeds keep aside.
In a blending jar, add roughly chopped Onion, Garlic, Ginger, Cumin, Coriander seeds. Blend thick, smooth paste using 1-2 tsp water, keep aside.
Heat 2 tbsp oil, add cumin seeds, finely chopped onion.
Fry it 2-3 minutes cook till it turns a little soft.
Mash the seeds of the snake gourd with hand add to the pan, then add the blended masala paste, turmeric powder, red chili powder, Mango powder, Garam masala powder, and salt.
Fry the masala on low flame till oil separated from it (cover and cook)
Turn off the flame. Let it cool down.
Gently fill the snake gourd pieces with the cooked masala paste.
Heat the 3 tbsp oil put all the stuffed snake gourd into the pan, cover the pan and cook it as a slow flame for 8-10 minutes.
Keep flipping in between to cook all sides of the snake gourd.
Serve hot with roti or rice.
NUTRITIVE VALUE AS PER ONE SERVING
| | | | | |
| --- | --- | --- | --- | --- |
| Calories Kcal | Proteins gram | Sodium mg | Potassium mg | Phosphorus mg |
| 149.3 | 1.6 | 226.5 | 158.8 | 26.7 |