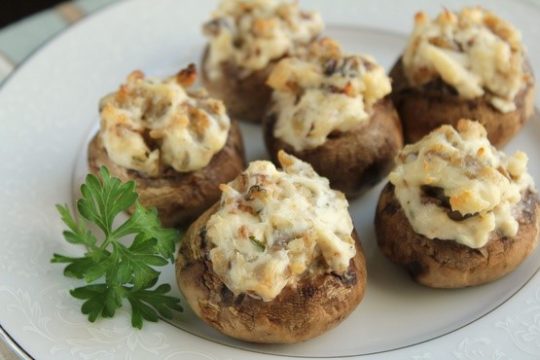 Portion: 12 in no
Serving Size: 4 in no
Ingredients
Mushroom 200 g (12-14 in no)
Hung Curd 1 cup
Garlic 2 tbsp.
Black pepper ½ tsp.
Onion ½ cup
Green chilies ½ tsp.
Olive Oil 1 tsp.
Procedure
Preheat oven to 200°C.
Clean mushrooms with a damp paper towel. Carefully break off stems.
Brush the mushrooms on both sides with olive oil.
Mix all the ingredients together. Using a little spoon, fill each mushroom cap with a generous amount of stuffing. Arrange the mushroom caps on prepared cookie sheet.
Bake for 20 minutes in the preheated oven, or until the mushrooms are piping hot and liquid starts to form under caps.
Allow to cool for 5 minutes or so before serving.
Nutritive value as per one serving
Calories : 147 Kcal
Proteins : 11 gm
Sodium : 19 mg
Potassium : 62 mg
Phosphorus : 126 mg