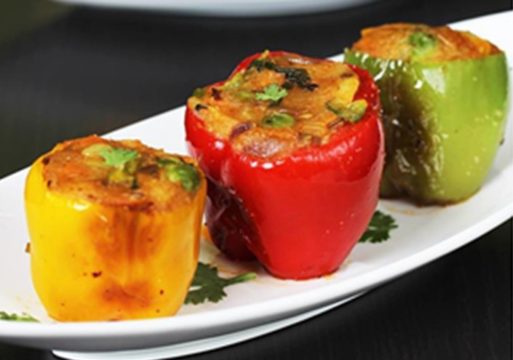 Portion: 4 -5 in no
Serving Size: 1-2 in no
Ingredients
Potato, leached, grated, medium 2-3
Paneer, grated 100 g
Capsicum, medium 4-5 in no.
Haldi ½ tsp.
Garam Masala ½ tsp.
Coriander leaves chopped 1 tbsp.
Green chili, chopped 1 tsp.
Red Chili powder ¼ tsp.
Jeera ½ tsp.
Oil 2 tsp.
Procedure
Heat oil in a pan, add jeera and let it splutter.
Add onions and fry till golden brown.
Add haldi, red chili powder, green chili and asafoetida .Stir well.
Add grated potatoes and paneer and sauté for about 2 mins.
Add garam masala and coriander leaves. Mix it well and allow the mixture to cool down.
Slice the top of capsicum, remove seeds, rinse them in water and pat dry with kitchen towel.
Generously stuff the mixture in the capsicum.
Heat 1 tsp. oil in nonstick pan and place the stuffed capsicum in the pan.
Cover the pan and allow the stuffed capsicum to cook on a low flame.
Keep on changing the sides of the capsicum, so that all sides are cooked well.
Turn the sides and cover the pan again. Continue to change the sides till capsicum in golden brown and wrinkled.
Serve hot.
Note: You can also bake the stuffed capsicum.
Pre heat the oven for 200° C. Place stuffed capsicum on baking tray and bake for around 20-30 minutes.
Nutritive value as per one serving
Calories : 135 KCal
Protein : 6 gram
Sodium : 60 mg
Potassium : 247 mg
Phosporus : 97 mg