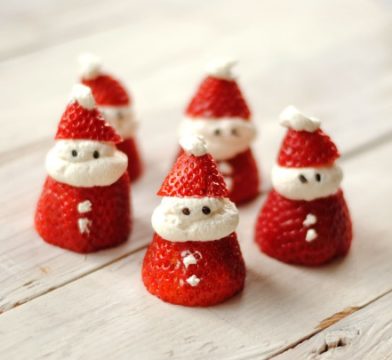 Portions: 14 mini Santa
Serving: 2 in no
Ingredients:
Whipped cream, low fat 1cup
Icing sugar 1 cup
Strawberries, large 14
Vanilla essence ½ tsp
Procedure:
Cut the leaves of the strawberries. Cut is flat so that it serves as a base.
Cut the tip of the strawberry, this will serves as a hat.
Using a beater, beat the cream until frothy.
Add the icing sugar gradually while beating.
Whip until the cream holds soft peaks.
Place whipped cream mixture in piping bag fitted with star tip or in re sealable plastic food bag.
Pipe large amount of cream on the base of strawberry for face and beard. Set the hat atop of face.
Squeeze little cream on the top of the hat for the pom-pom and two dots on the base for buttons.
Places two chocolate sprinkle on the face for eyes.
Nutritive value as per one serving (2 in no)
Calories:104Kcal
Protein:0.5g
Sodium: 7.7mg
Phosphorus: 14mg
Potassium: 47.2mg
Note: The beaten whipped cream should be used immediately. The assembled Santa's can be refrigerated for 2 hrs.