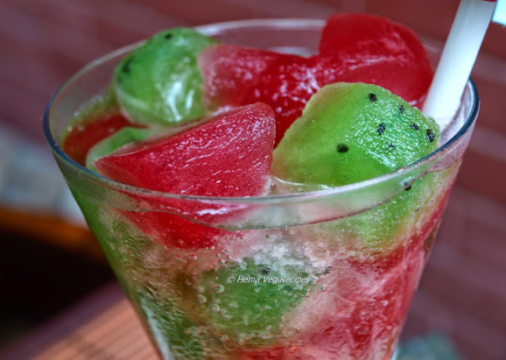 PORTIONS:  3 in no
SERVING SIZE: 4 cubes + 100 ml Sprite
INGREDIENTS: (1 cup = 150 g)
Kiwi, peeled, pureed ¾  cup sliced
Strawberry, pureed ¾  cup
Sprite 300 ml
PREPARATION:
Divide the kiwi puree into 6 portions, and pour into the ice tray.
Repeat the same method for strawberry puree and pour in the ice tray separately.
Keep them in freezer for 4 hours.
Remove carefully from the ice tray.
Put 2 piece of each fruit into the glass.
Now slowly add 100 ml sprite.
Serve chilled.
NUTRITIVE VALUE AS PER ONE SERVING
Calories: 72 Kcal
Proteins: 0.9 gram
Sodium: 6.23 mg
Potassium: 140 mg
Phosphorus: 18.7 mg
Disclaimer: Including this recipe without consulting your dietitian may cause disturbances in your laboratory results. Creating variety in your eating pattern is one way to improve your quality of life.