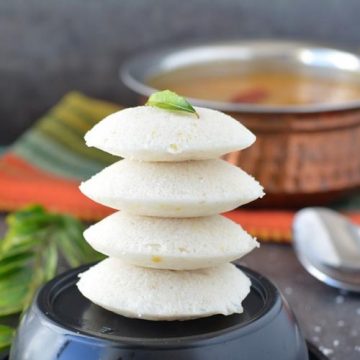 Portions: 8
Serving size: 2
Highlights:
1. Can be eaten as breakfast or as snack.
2. For Dialysis & Diabetes.
Ingredients:
1/2c whole Urad dal (Black lentil)
1/2c Parboiled rice
1/2c Raw rice, medium grain
1/2c Idli Rava (cream of rice)
1/4tsp Methi seeds (fenugreek)
Preparation:
1. Soak dal and methi seeds together and different rice types in 4 different containers for at least 4 hours.
2. Grind urad dal to a fine paste till smooth and pouring consistency.
3. Grind parboiled rice and raw rice coarsely together.
4. Add soaked Idli rava after squeezing the excess water to the above rice paste and grind it with the above batter for half a minute.
5. Mix both urad dal and rice paste together thoroughly.
6. Leave the container overnight to naturally ferment to approximately double of its original volume.
7. To cook idlis, put the batter in lightly greased idli mould and steam it for 15 minutes.
8. Remove from mould and serve hot with onion-coriander or ginger chutney.
Tip:
1.You may use microwavable idli maker to cook 4 idlis in 4 minutes.
2. May use only a touch of ghee if must.
Nutrients per serving:
Calories: 162 Kcal
Protein: 5 g
Carbohydrates: 35g
Fat: 0g
Sodium: 5mg
Phosphorus: 101mg
Calcium: 22mg
Potassium: 136mg
Disclaimer: Including this recipe without consulting your dietitian may cause disturbances in your laboratory results. Creating variety in your eating pattern is one way to improve your quality of life.