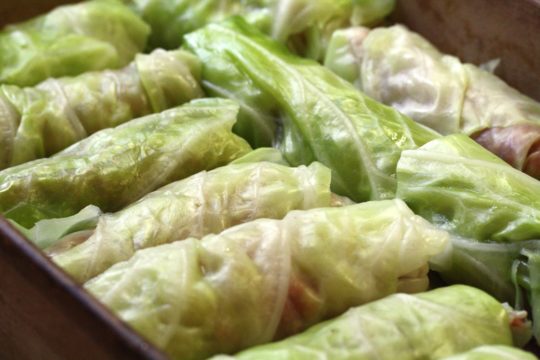 Traditional cabbage rolls packed with flavor and simple ingredients, will surely leave a memorable experience for your taste buds.
PORTIONS: 10 pieces
SERVING SIZE: 1 piece
INGREDIENTS:
Cabbage leaves,medium size 10 in no
Onion stalk, chopped 1 cup
Tomato,chopped ¼ cup
Carrot,grated ½ cup
Onion,small ½ cup
Capsicum,chopped ½ cup
Green peas ½ cup
Paneer, grated 50 g
Oil 1 Tbsp
Salt ¼ tsp
PREPARATION:
Heat oil in a large pan. Add onions , capsicum, grated carrot, green peas, chopped tomato and onion stalk.
Cook on medium flame until ingredients are soft and cooked.
Add paneer and ¼ teaspoon salt. Divide into equal 10 portions. Keep aside.
Place the cabbage leaves in a large bowl of water and cook for 10 -15 minutes until semi-soft. Remove and drain.
Take one cabbage leave at a time and place one portion of the cooked ingredients of filling near the end and roll it. After completing all rolls, place it in a large bowl, steam it for 10 mins.
Serve hot.
NUTRITIVE VALUE AS PER ONE SERVING
| | | | | |
| --- | --- | --- | --- | --- |
| Calories Kcal | Proteins gram | Sodium mg | Potassium mg | Phosphorus mg |
| 44 | 2 | 66.9 | 139.2 | 35.4 |
Note:
Low calorie rolls can be served with 1 tsp tomato salsa. (
https://www.nephroplus.com/recipes/tomato-salsa/
)