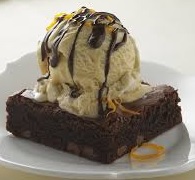 Start off the New Year on a sweet note with celebratory brownie.
Portion size: 9 pcs
Serving size: 1 pc
Ingredients:
Maida ¾ cup
Coco Powder ¼ cup
Oil ½ cup
Baking powder 1 tsp
Sugar ¾ cup
Coffee powder 1 tsp
Vanilla Essence ½ tsp
Walnut kernels,chopped 3 tbsp
Procedure:
Preheat the oven at 180 C
Sift all the dry ingredients together
Add oil, vanilla essence and vinegar to the flour mixture
Using a wire whisk,mix it properly. Whisk until batter turns light
Transfer the batter to a greased 8×8 tin and add chopped walnuts on top
Bake for 20-25 min
Remove it from the oven; let it cool by itself in the tray for 10 mins
Cut it into 9 equal pieces
Serve it warm with 1 scoop plain vanilla ice cream and 1 tsp chocolate sauce
Nutritive value as per one serving
Calories

Kcal

Proteins

gram

Sodium

mg

Potassium

mg

Phosphorus

mg

265
2.29
7.28
60
40
Note: You can modify the portion size and choose the add-ons considering the meal planned for entire day.To enjoy the delicious and rich brownie make sure you plan the menu ahead of time and ensure that you are not exceeding the prescribed intake of nutrients.
Items
Qty
Calories

Kcal

Proteins

gram

Sodium

mg

Potassium

mg

Phosphorus

mg

Ice crean, Plain, vanilla
1 scoop
137
2.31
53
131
69
Chocolate sauce
 1 tbsp
52
0.41
14
43
25