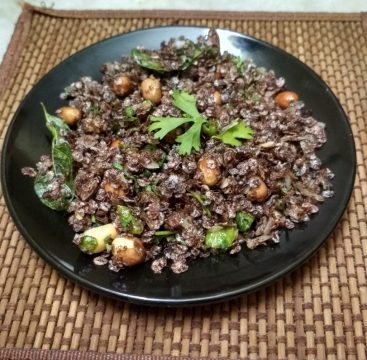 Recipe suitable for: Dialysis, Diabetics and CKD Stage 1-4.
Makes 2 serving
Ingredients:
Ragi Flakes 1 cup (52g)
Onion, medium, finely chopped 1
Green chillies, finely chopped ½ tsp
Coriander, finely chopped 1 tsp
Peanut 2 tsp (Optional)
Mustard Seeds ½ tsp
Curry leave 1 sprig
Oil 1 tsp
Salt 1/8th tsp (A pinch)
Procedure:
Heat oil in a pan. Add mustard seeds and allow it to splutter.
Add curry leaves, green chillies and peanuts. Fry for a minute.
Now add onion, salt and fry until onion turns soft.
Add ragi flakes and sprinkle 2-3 tsp of water and cook covered on a slow flame for a 2 mins.
Add freshly chopped coriander and serve hot.
Nutritional Content per serving
| | | | | | | | | | |
| --- | --- | --- | --- | --- | --- | --- | --- | --- | --- |
| Nutrient | Energy Kcal | Protein g | CHO g | Fats g | Sodium mg | Potassium mg | Phosphorus mg | Fibre mg | Calcium mg |
| | 174.59 | 5.98 | 22.3 | 7.04 | 158.9 | 243.9 | 162 | 4.61 | 119.2 |
Note: Recipe without peanut, potassium content is 187 mg per serve.
The process of dialysis is exhausting and time consuming. The people with End Stage Renal Disease have to undergo dialysis at least 12- 15 hours per week. This process, not also drains out energy, but also all the essential nutrients. The protein loss during every four hour dialysis session is approximately 8-16 gram per session. If this loss is not recuperated, the protein stores in the body will diminish leading to severe weight loss, poor immunity and weakness. The diet regime needs to be strictly tailor made for the one on regular dialysis.
Health Benefit of Ragi:
Ragi is a gluten free millet, with the presence of essential amino acids like lysine and tryptophan. It has slow digestible and resistant starch, which can provide profound benefits like improved insulin sensitivity, lower blood sugar levels and reduced appetite. It is also rich in antioxidant, phytochemicals and Vitamin B. It is a good source of calcium and fiber.
Key points to ponder while planning a recipe for people on dialysis:
High in Protein- As the protein loss during session needs to be replenished.
Low in Potassium- As deranged Kidney can hold potassium in the body and interfere with the functioning of heart.
Low in Phosphorus- As high phosphorus can make bones brittle.
Low in Sodium- As food high in sodium can increase thirst and lead to unwanted fluid weight gain.
Monitored Fluids- Strictly as suggested by the dietician and Nephrologist. As liquid above prescribed range can lead to fluid overload and unwanted complications.
Easy to make- As dialysis is an ongoing process, traveling to the dialysis center and undergoing dialysis can be exorbitant both on time and energy.
About the recipe- Ragi Flakes Poha
The cook time of the recipe is less, easy to make, tasty, interesting twist to the traditional Rice flakes Poha, adds variety in the meal, the ingredients are easily available and the nutrients are customized to cater to the special needs of people on dialysis.
Other than dialysis, the recipe is also suitable for people with other medical complications like CKD Stage 1-4, Diabetics and Constipation. It can also be a good snack option for people looking for High Protein, High Calcium and High Fiber recipe.