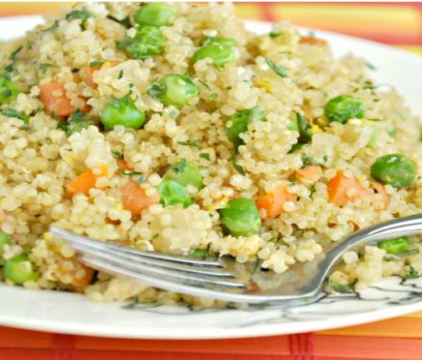 PORTION 2
SERVING SIZE: 125gms
Ingredients (1 cup= 160gm)
3/4 Cup Quinoa

1/8 Cup Green beans Small Pieces

1/8 Cup Carrots Small Pieces

1/8 Cup Potato Small Pieces

1/8 Cup Onion Small Pieces

1/8 Cup Green peas

1/8 Cup Mint Leaves

1 Green Chilli

1 Tablespoon Ginger Blend

1/2 Teaspoon Salt

1 Tablespoon Oil
Directions
Gather all ingredients in separate bowls

Cut vegetables and set aside

Heat oil in a pan on medium flame and sauté vegetables for 5 minutes

Blend ginger and chili and add to vegetables in pan; stir well for 2 to 3 minutes

Add salt, mint leaves and stir well

Add quinoa and stir for a minute

Transfer to a rice cooker bowl, add 4 ounces of water, mix well and turn cooker on- cook for 15 minutes; Quinoa is ready to be served.
Nutritional content in 1 serving
Calories:

183.7 Kcal

Protein:

4.2 g

Carbohydrates:

22 g

Fat:

8.3 g

Sodium:

13.05 mg

Phosphorus:

180 mg

Calcium:

38.5 mg

Potassium:

214.1 mg
Special Note:
Leach all vegetables before cooking (as per your Dietician's advise)

Quinoa is a healthy option with high amount of protein and fiber.

Quinoa is gluten free cereal, an excellent option for those suffering from gluten intolerance

Quinoa contains all nine essential amino acids and various beneficial antioxidants.