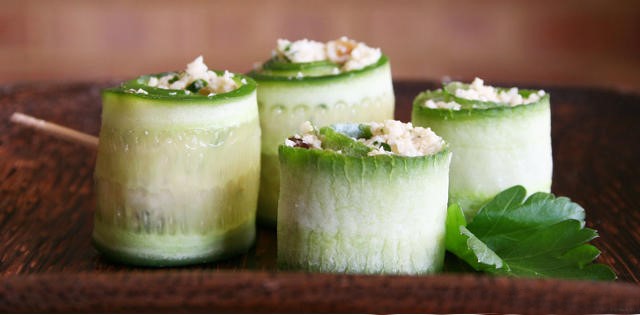 Portion: 9-10
Serving Size: 3-4 in no
Ingredients (1 cup 150 g)
Cucumber, medium 1
Hung curd 1 cup
Black pepper ¼ tsp
Green chilies, l ½ tsp.
Garlic, finely chopped 1 tsp.
Procedure
Mix all the ingredients together except cucumber.
Use a mandoline or potato peeler to cut long thin strips from the cucumber.
Take a cucumber strip and spread a thin coat of the mixture along the length of the cucumber. Make sure to get some mixture all the way to the end, so it will stick the roll together.
Roll it up! Do the same with the rest of your cucumber strips.
Shots are ready to serve.
Nutritive value as per one serving
Calories : 170.8 Kcal
Proteins : 11 gm
Sodium : 20.8 mg
Potassium : 100 mg
Phosphorus : 100 mg