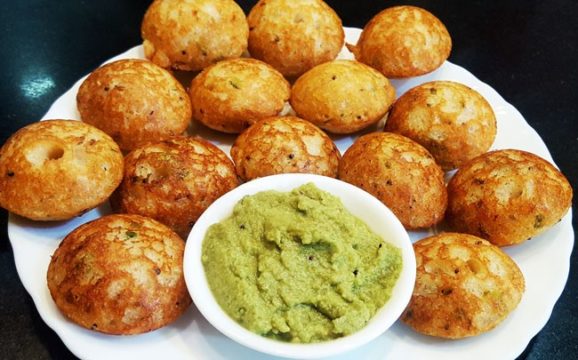 A perfect blend of carbohydrate, proteins and fiber.
Portion size: 2 person
Serving size: 4-5 pcs appam
Ingredients:
Rava – 1 cup
Curd – 4 tsp
Grated Cabbage – 2 tsp
Grated Carrot- 2 tsp
Chopped Capsicum – 2tsp
Paneer – 4 tsp
Salt 1/8 th tsp  (As suggested by the dietician)
Jeera – ½ tsp
Oil- 1 tsp
Method:
Mix all the above ingredients (except oil) in a bowl, add 1 cup of water to it and mix well.
Now, take an appam pan, grease it slightly with oil. Heat the pan and add the batter in the grooves.
Steam it for 5-7 mins and then flip the ball. Steam it again for 5 mins. Serve hot.
Nutrient composition per serving:
Energy- 250 Kcal
Protein- 9.7 g
Phosphorus – 155 mg
Sodium- 200 mg
Potassium -168 mg
Note: It can be served with coriander mint chutney.
https://www.nephroplus.com/recipes/mint-chutney/