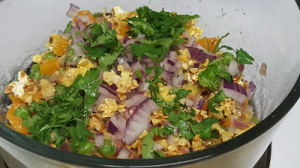 Portions: 3
Serving size: 3/4C
Highlights:
1. No added Salt
2. Source of Protein
Ingredients:
4C Puffed Popcorn
1/2C Peas, fresh, green
1/2C Capsicum, Yellow-Orange, chopped
1/2C Onion, chopped
2Tbsp Curd
1Tbsp Olive Oil
1/2tsp Cumin seeds (Jeera)
1/4tsp Musturd Seeds (Rai)
1tsp Chilies, Green
1Tbsp Coriander, chopped, fresh
Preparation:
  In a pan fry heat 1 tsp oil and add rai, jeera, and all the chopped vegetables keeping ½ the amount of onion aside.
In a minute, add curd, green chilies and soften the vegetable mixture. Cook for only a minute or two. Let it cool.
Pour over the Popcorn and mix well
Squeeze in half the lemon and mix again lightly.
Garnish with coriander leaves and the onion which was kept aside.
Nutritious Popcorn bhel is ready.
Nutrients per serving:
Calories: 139 Kcal
Protein: 3.5 g
Carbohydrates: 15 g
Fat: 8 g
Sodium: 8 mg
Phosphorus: 95 mg
Calcium: 46 mg
Potassium: 130 mg
Dietary Fiber: 1.7 g
Disclaimer: Including this recipe without consulting your dietitian may cause disturbances in your laboratory results. Creating variety in your eating pattern is one way to improve your quality of life.