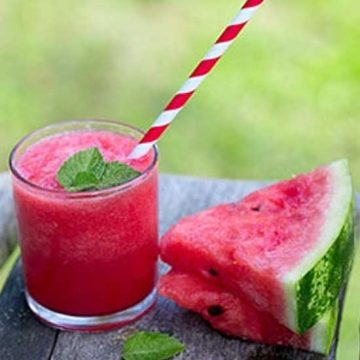 Portions: 1
Serving size: 3/4c fluid
Highlights:
1. Quench your thirst with watermelon cubes
2. For Diabetics and Dialysis
3. Is a substitute for fluid allowance of 3/4c
Ingredients:
1/2c ice cubes
1/2 c cubed and deseeded watermelon cubes
2-3 tulsi leaves (basil)
Dash of crushed pepper
1 tsp of lemon juice
1 tsp of sugar or sugar substitute
Preparation:
1.Place ice cubes in a blender and make crushed ice.
2. Add other ingredients to the crushed ice and blend it till smooth.
3. Pour the well blended juice into ice cube trays and freeze in the refrigerator.
4. Use the ice cubes as needed while thirsty.
Useful Tip: Make this fresh and use it same day. Do not stock extra portions for next day as it can decay fast.
Nutrients per serving:
Calories:30 Kcal
Protein:0 g
Carbohydrates: 6.5g
Fat: 0g
Sodium: 21mg
Phosphorus: 9 mg
Calcium: 8mg
Potassium: 122mg
Disclaimer: Including this recipe without consulting your dietitian may cause disturbances in your laboratory results. Creating variety in your eating pattern is one way to improve your quality of life.