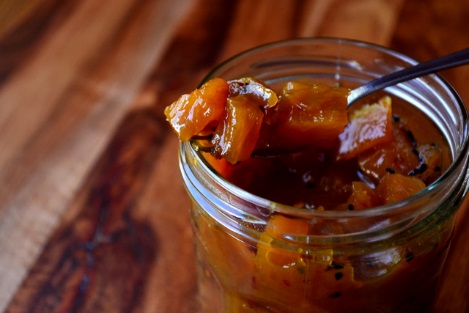 Portion: 500 ml x 2 jars
Serving size: 1 to 2 tsp (5- 10 ml)
Ingredients:
Pine apple, medium, chopped 2 in no
Red onions, finely chopped 3 in no
Turmeric 1 tsp
Red chilies, dried 2-3 in no
Ginger, chopped 1 inch
Refined sugar 250 g
Cider Vinegar 175 ml
Mustard seeds 1 tsp
Onion seeds 1 tsp
Fennel seeds, roasted 1 tsp
Fenugreek seeds 1 tsp (Optional)
Procedure:
Heat oil in thick-based pan. Add onion and other spices, cook for 5 mins until fragrant.
Stir for a minute and add chopped pineapple, let it cook in its own juice.
Now add sugar and half cup of water. Stir for a while and add rest ingredients including salt.
Cover with a lid and simmer for 1 hr until dark golden and thick.
Pour into sterilised jars and allow to cool before covering.
Nutritive value as per one serving (1 tsp)
Calories – 22 Kcal
Protein – 0 mg
Sodium – 5 mg
Potassium – 1 mg
Phosphorus – 0.1 mg
Note: Chutney can be stored for more than a year if stored away from direct sunlight. Once opened store it in refrigerator.