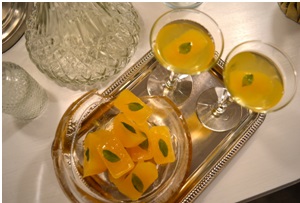 Portions: 3
Serving size:  1/2C
Highlights:
1. Protein bite
Ingredients:
1/2C Pineapple Chunks
1/4C Mango Cubed Pieces
1C Water, Chilled
1Scoop of Dialysis Whey Protein Powder
Preparation:
1. Add plain water first in the blender and add the remaining ingredients and blend the ingredients till smooth.
2.  Serve chilled.
Useful Tip:
Alternatively, you can make ice cubes to suck on by freezing one portion in the ice-cube tray.
Nutrients per serving:
Calories: 49Kcal
Protein: 4.5gm
Carbohydrates: 11gm
Fat: 0gm
Sodium: 38mg
Phosphorus: 5mg
Calcium: 9mg
Potassium: 74mg
Dietary Fiber: 1gm
Disclaimer: Including this recipe without consulting your dietitian may cause disturbances in your laboratory results. Creating variety in your eating pattern is one way to improve your quality of life.