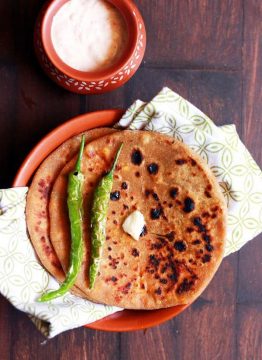 Portions: 4
Serving Size: 1
Highlights
1. High source of potassium, calcium, phosphorus, and protein
2. Consult your dietitian to include this recipe in your individualized menu
Ingredients
1c Paneer crumbled- home made
1 ½ c wheat flour
1/4tsp ajwain (carom seed)
2 Green chilies
Pinch of salt (optional)
1 tsp fresh chopped fresh coriander leaves
4 tsp oil
Preparation
1. Crumble homemade paneer and keep it aside.
2. Wash and chop green chilies and fresh coriander.
3. Mix together all spices, coriander and chilies to crumbled paneer. Divide into 4 portions.
4. Kneed wheat flour into tight dough using enough water.
5. Divide the dough into 4 portions
6. Roll the dough lightly using a rolling pin and fill with paneer mixture in the center. Bring together the edges of the dough and make into a ball.
7 .Roll the above ball into flat parantha. Thickness can vary according to your preference.
8. Heat a flat tawa on medium flame and place the flat parantha on it. cook till you see the change in texture. Turn upside down and brush little oil on the cooked side. Flip again and brush oil on the other side too. Cook till golden brown.
Disclaimer: Including this recipe without consulting your dietitian may cause disturbances in your laboratory results. Creating variety in your eating pattern is one way to improve your quality of life.