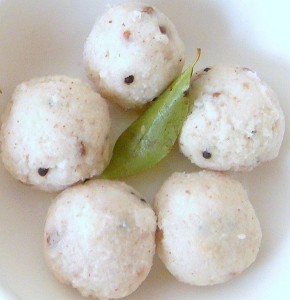 Contributed by a NephroPlus guest, Mrs. Kanthi Sivasankaran
Ingredients:
1. Raw rice 200 gm
2. Potato 2 small pieces
3. Mustard ½  tea spoon
4. Chana dal Broken 1 tea spoon
5. Green Chilli 1 piece
6. Garam Masala 1 table spoon
7. Paneer grated 1 cup
8. Cooking oil 1 table spoon Salt – a pinch
Method:
For Stuffing:
Leach the potatoes, mash them and mix with grated paneer along with garam masala.
For the base:
– Wash the raw rice and leave it soaked for 1 hour.
– Decant the water and spread the rice on a piece of cloth.
– Allow it to drain all the water and grind it in the mixer to a fine powder.
– Sieve it to remove the unground granules.
– Keep the ground rice powder aside.
– Take 2 tspn cooking oil and fry (thadka) mustard and chana dal.
– Add the thadka along with the chopped green chilli and salt to the dry rice powder.
– Mix the entire powder thoroughly.
– Boil about 200 ml of water in a vessel and add the mixed powder slowly and keep stirring so that it becomes viscous.
– Knead hard enough to make small balls. Add water if it becomes too hard while cooking.
– Flatten the ball and stuff it with the paneer-potato.
– Seam the ball.
– Steam the balls in an idli holder in a pressure cooker without the weight whistle for 10 minutes. (Spread a little oil on the idli plates to avoid sticking.)
– Serve hot!