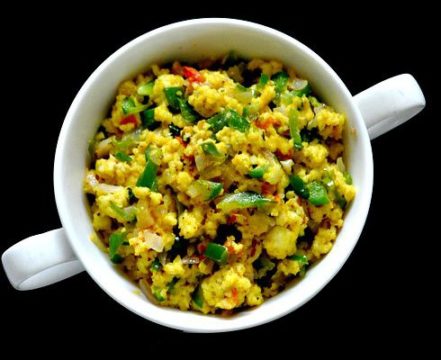 Portion Size: 5 cups
Size: 3/4 cup
Ingredients:
Paneer, low fat, grated 200 g
Cumin seeds ½ tsp
Onion, Large 1 in no
Tomato, medium 1 in no
Green Chilli chopped 1 tsp
Oil 2 tsp
Curry Leaves 1 sprig
Ginger Garlic paste 1 tsp
Turmeric ¼ tsp
Salt- As suggested by Dietician
Procedure:
Heat oil in a non-stick pan.
Add cumin seeds and let it splutter.
Add curry leaves, onion, green chilli, ginger garlic paste and turmeric. Sauté the mixture until onion become light brown.
Now add chopped tomatoes and sauté for another 4-5 mins.
Add grated paneer and mix well.
Cover the mix with a lid and steam it for 2 min.
Serve hot with phulkas.
Nutritive value as per one serving:
Calories: 481 Kcal
Protein: 8.4 gram
Sodium: 3.52 mg
Potassium: 115.2 mg
Phosphorus: 147 mg
Note: If the paneer become too dry then add some water to make it moist and soft.