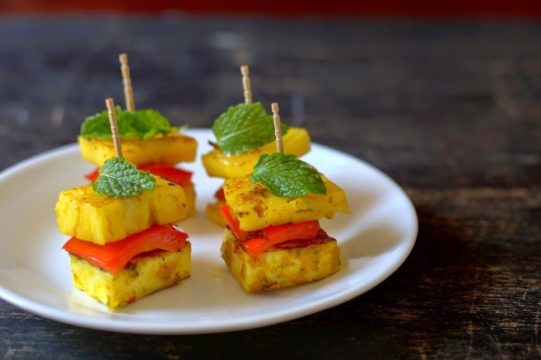 Portion: 10 in no.
Serving Size: 4 in no
Ingredients
Paneer 200 g (cut into 1" cubes)
Haldi 1/4 tsp.
Red chili powder 1/4th tsp.
Curd 4 tbsp.
Garam Masala 1/4th tsp.
Large bell peppers 1 in no
Pineapple, small 1
Procedure
Mix all the ingredients together except pineapple and keep the marinade for minimum of 1 hour.
When it is ready to cook cut the pineapple into cubes.
Place the paneer, bell pepper and pineapple on skewers.
Place the skewers on the tava and grill on medium heat.
Brush with oil as required.
Once it is done remove from the heat and serve immediately.
Nutritive value as per one serving
Calories : 139 Kcal
Proteins : 11 gm
Sodium : 154 mg
Potassium : 226 mg
Phosphorus : 153 mg